Welcome
Guest[18.204.55.168]
, connected from Ashburn, Virginia

Recherche le plugin de ce forum : HitCounter Plugin
Pichorka


Junior Member



Add to buddy
Recherche le plugin de ce forum : HitCounter Plugin
Bonjour,
J'aurai besoin si possible d'avoir le code ou le plugin ou script modifié que l'ont vois sur la sidebar de l'index a Gauche sur votre Forum :
HitCounter Plugin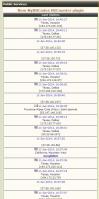 La raison et que je suis victime de personnes mal intentionnés, qui spams le mail de mon site et Forum MyBB je ne sais pas comment ..., au point ou mon Domaine et les delivery mail sont bloqués par mon hébergeur (plus de 2000 mails par jour envoyés récemment) et je suis du coup moi et les membres pénalisé, obligé d'ouvrir sans send mail verification les nouveaux comptes ce qui me conviens pas et le nom du serveur de mon forum, blacklisté temporairement évidement.
J'aurai également besoin d'un pluging ou script qui me permette de logguer et trouver le ou les comptes coupables dans la partie du Pannel Admin.
Merci par avance pour vos aides et réponses.
Cordialement,
---
06-11-2014, 07:38 PM
(This post was last modified: 06-11-2014 07:39 PM by exdiogene.)
exdiogene


Software/Hardware engineering



Add to buddy
RE: Recherche le plugin de ce forum : HitCounter Plugin
Le plugin utilisé ici n'est pas disponible aux membres, même pour les souscripteurs!
Il demande l'installation d'une autre application de Geo-Localisation, qui est un module Apache installé sur le serveur lui-même.
Mais cela est disponible pour tous mes clients sur mon propre serveur.
Pour le LOG des activités sur votre forum, nous avons un plugin ici pour les souscripteurs :
http://www.mybbcodes.com/showthread.php?tid=132
Dans votre Panneau d'administration il est aussi possible de savoir qui a envoyé un courriel à qui, dans la section :
Outils et Maintenance -> Suivi des emails des utilisateurs
---
Pichorka


Junior Member



Add to buddy
RE: Recherche le plugin de ce forum : HitCounter Plugin
Merci pour ta réponse rapide et claire !
Disons donc que pour le moment je n'ai plus de dedié ni vps, donc en mutualisé c'est mort.
Pour le Plugin des Logs, il faut également et c'est normal payer, mais je ne peux pas actuellement.
Merci tout de même
---
0 member(s) viewed this thread in the last 365 days :
Was This Thread Useful ?
Please Link To Us